Renowned Explorers: International Society on Steam
Reviews "It's genuinely great, like, it's one of my favorite games this year so far….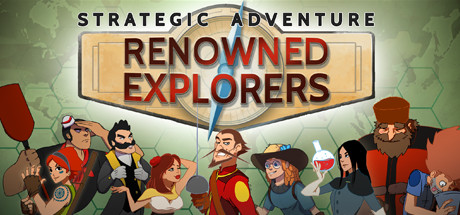 Reviews
"It's genuinely great, like, it's one of my favorite games this year so far. It's got so much going for it, so much depth, so much character, so much replayability, great systems, unique concepts in combat, awesome presentation…"
TotalBiscuit, The Cynical Brit
"Here's where I start to love Renowned Explorers. The encounters aren't just a paper/rock/scissors system of aggressive, friendly, or devious. The more pertinent choice is whether you're going to talk or fight. Either approach has distinct rules, with some characters suited to one or the other."
100 – Quartertothree – Tom Chick
"…Renowned Explorers still stands as one of the best surprises of the year so far that wannabe adventurers of any age can enjoy. Encountering some thugs but instead of fighting, it just turns into one great big insult throwing contest where the loser runs away, foaming at the mouth. Brilliant."
85 – Gamewatcher – John Paul Jones
About This Game
Renowned Explorers: International Society is a strategy adventure game set in a fictitious 19th century world. It introduces a unique attitude-based gameplay that challenges both your tactical and storytelling skills.
Key Features
Endless New Adventures – Explore the far corners of fictitious 19th century world in procedurally generated expeditions to Egypt, the Caribbean and much more.
Compose your Crew – Choose 3 experts out of 20. Fighters are Aggressive but Speakers can solve tactical conflicts with Speech actions.
Personality = Gameplay – Each conflict can be solved in different ways, depending on your crew's personality and strategy. 'Mood' is one of the most important gameplay elements.
Fight them with Melee, Ranged and Area of Effect attacks,
win them over using Cheers, Charms and Compliments,
or scare them away by Insults, Taunts and Humiliation
Optimize your Economy – Collect Insight, Research, Gold and Status on your expeditions. Use them to build economy and support for your next expedition.
Vivid Stories – Find more than a hundred treasures in hundreds of visual events that adapt to the characters and have multiple outcomes.
Build a reputation – Become a Diplomat, Aggressor or Manipulator. Go for Science, Wealth or Status. Fame is your goal, but the way there is entirely up to you.
Permadeath? – In Adventure mode you cannot load after failure. Discovery mode lets you reload. Choose difficulties from Easy through Impossible to customize the challenge.